The Annual Fireman's Carnival

We got together with the community on this day to thank our local fire department for their service and hard work. We enjoyed food, refreshments, rides and many fun activities. The event was full of local families and fire fighters enjoying the live entertainment and festivities.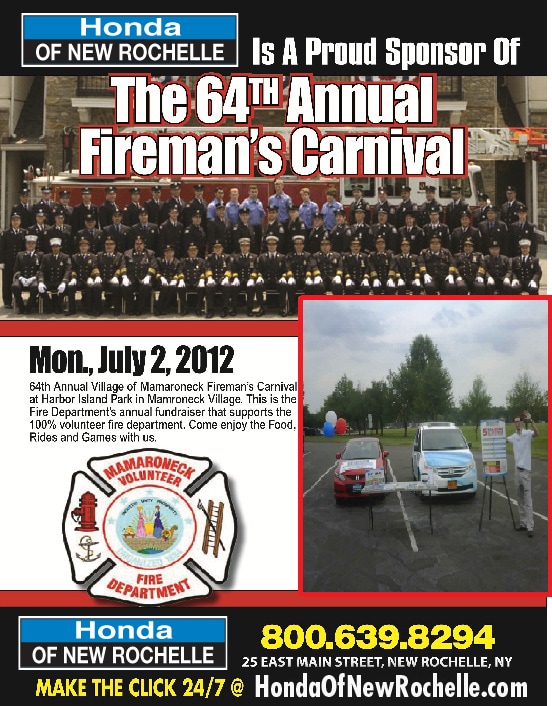 ___________________________________________________________
  Ray Rice NFL FOOTBALL Event - 
Thanks to everybody who helped out at this great Honda of New Rochelle sponsored event. The kids were all loving the Football instructions from Ray Rice a real NFL player who was tossing the ball and signing autographs. It was exciting and a nice way to spend the day in the sun playing games and learning from a true professional. Congratulations to one of our loyal customer who won a $100 Gas Card. Thanks to Ray Rice and all his friends who came down to spend time with the kids. McKenna Field at New Rochelle High School was full of people enjoying themselves, it was really a
fun time as you can see below.


---
AIDS Walk NYC - 
Here are some of the photos from the 2012 New York City Aids Walk that Honda of New Rochelle sponsored. A big thanks to the Sigma Lambda Upsilon sorority for teaming up with Honda of New Rochelle and helping to raise money for this great foundation. It was a beautiful day and everyone had a fun time, they are sporting our t- shirts designed and made for the special event.
 
_________________________________________________________________



Maria Fareri Go The Distance walk  
The Go The Distance Event was an awesome day that Honda of New Rochelle under the Patch umbrella helped sponsor. We teamed up to raise funds for the Maria Fareri Children's Hospital. It was a beautiful day! We enjoyed live entertainment, arts & crafts and hung out with many fun characters.